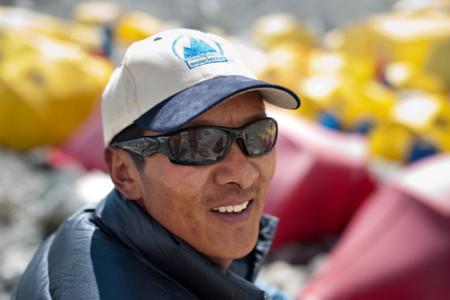 Phurba
Another day at base camp
While I was walking down the hill to reach Lukla in two days, life at base camp has carried on as usual. I spoke to Russell last night and he told me that the guides and some team members had moved some more rocks to flatten the base for the tents (the glacier is obviously melting away quickly), and that Himex and some other teams had made the new helipad an even better one.
"A few helicopters have landed, and our construction has not fallen apart," Russell told me proudly.
Other than that, base camp is becoming more lively again as most of the teams that had gone down the valley to recuperate are moving back up to get ready for the summit push. On my way to Namche, I met several expeditions that had descended as far as Deboche. "It is great to see trees, and especially Rhododendrons, again. I could not get enough when I first smelt and saw the greenery," Ronnie Muhl, a South African expedition leader said, when I met him at Deboche, which lies at an altitude of 3,800m.
For the Himex members, who did not move down the valley, it is business as usual: reading or emailing in the White Pod, relaxing in their tents, washing their laundry or just gazing at the beauty of the mountains.
"I am getting quite impatient but I know that high altitude mountaineering is a waiting game," Helmut said when I was about to leave. However, like any other team on the mountain, the Himex crew will have to wait for the strong winds to die down in order for them to reach the summit, and come back down again.
"The weather window has to be big enough for everyone to get back down safely as the summit is only half way," Russell always emphasises.
On a different note, Shari from Australia left the expedition on Wednesday morning. According to our doctor Monica, she was not feeling well on her second acclimatisation trip to Camp 2 at 6,400m and had to abandon her expedition. She is currently on her way to Lukla and should be arriving in Kathmandu in the next few days.
Tashi Friendship Lodge
On my way to Lukla, I stayed in Phurba Tashi's lodge in Kumjung. Russell's right hand and excellent Sirdar runs a lodge in the small village near Namche Bazaar, and as they Sherpas were on home leave for a few days, I was able to meet Phurba Tashi there before he had to go back to base camp the following day.
When I arrived at the lodge, I had the chance to meet his four children – three boys (two of them are twins, and a girl) – and his wife. It was nice to see this strong man, who I normally only know in his role as a Sirdar, in the midst of his family life. While he and I were chatting, his wife was busy cooking Dhal Bhat (the traditional Nepali dish of rice and lentils) and his children were doing their homework.
"Today, the pressure cooker exploded at our school, however, we still had to attend our lessons," Phurba Tashi's daughter Sonam told me disappointedly. However, Sonam and her brothers had a few days off as the Maoists had closed the school during their strike at the beginning of May.
The 'Tashi Friendship Lodge' is right next to the Hillary school and Phurba Tashi's kids are very lucky as their way to school is probably less than one minute. However, other kids in the region have to walk a lot further. "I have to walk to school for about one hour," Phurba Tashi's niece, who was also staying in the lodge, told me.
During our chat, Phurba Tashi also said that he was a bit worried about what the Climbing Sherpas would do when they were too old to climb. "I think it is difficult for us as we don't have a pension and we don't really have anything else we can do. I see some of my friends and they are a bit lost after they stop climbing." However, the 39-year-old also knows that he and his team are in good hands with Himex. "Russell has been so generous to all of us and we are very lucky to be working for him," he said.
But looking at this strong man, it seems very unlikely that he will be giving up climbing in the near future and we all hope that he will be working with Himex for many years to come.
责编:辛逸